Sell Luxury Watches to Gold Buyers Perth
Buy, sell or trade your watch
No appointments required
Cash paid on the spot
We also loan on watches from 4%
Secure and private city office
Free city parking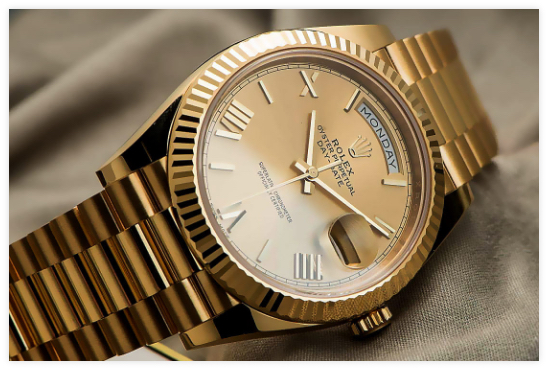 Those luxury hand watches in your closet can do more than collect dust. Here at Gold Buyers Perth, we offer some of the highest prices for luxury watches in Perth. If you've wanted to sell your luxury watches but were leery of wasting time with a complicated process, stop in a see us today. The process for either buying or selling designer, high-end watches is easy and fast with Gold Buyers Perth.
What luxury watch brands do we buy and sell?
Our on-site appraisers are experts in the designer hand watches market, and we offer some of the most competitive prices for luxury watches in Perth today. As one of the leading watch buyers in NSW, we'll thoroughly appraise your designer watch when you bring it into our secure location. We accept the following brands and more. Stop in today at Gold Buyers Perth to get your luxury watch appraised for the best price.
Rolex
Cartier
OMEGA
TAG Heuer
Brietling
IWC
Breguet
Audemars Piguet
Montblanc
Patek Philippe
Hublot
Panerai
Why should you sell luxury watches to Gold Buyers Perth?
Selling your luxury watch may not be on anyone's radar. Plus, how can you know if you're getting the best deal? When it comes to selling luxury items like hand watches on the secondary market, you don't want to take them to any old shop. To get the best deal, you'll want to go to an experienced and reputable watch dealer, like Gold Buyers Perth. Our knowledgeable on-site appraisers only take luxury brands in excellent condition. If you want to purchase a luxury watch, we can offer you a reasonable price for a high-quality hand watch that looks brand new.
What can you do to prepare for selling your luxury watches?
Luxury watch buyers want three things:
A watch in excellent physical condition.
A watch whose mechanics work well.
A (gently used) luxury hand watch with as many factory accessories, service records, and documents as possible.
If you're looking to sell a luxury hand watch, you can command the highest price if your watch meets these three criteria, regardless of the watch's value range and its make and model.
When customers come to Gold Buyers Perth, our in-house appraiser will begin the appraisal by assessing the watch's range of market values for its model and brand. Other than the watch's authenticity, the item's physical condition is most important. The appraisal process will include a thorough assessment of the watch's case, bracelets and straps, hands and dials, and crystals. The value of the watch will consist of the watch case components, including the condition of the bezel framing the crystal, pushers or crown, and the case and case back.
Before bringing in your luxury hand watch to Gold Buyers Perth, you'll want to bring in the packaging and documentation, too. Any papers, boxes, or accessories that would have gone to the original dealer's showroom should be brought in with your watch for an accurate and quick appraisal. If your watch has had any service work done on it since purchasing, you'll want to bring the service records too.
Stop In Today
At Gold Buyers Perth, we buy all luxury watch brands and offer some of the highest prices for gently used watches on the secondary market. If you're looking to buy a new watch, we sell some of the most popular brands, and all are in excellent condition with precise documentation to prove their authenticity and service history. Come into our secure location in St Georges Terrace today to sell your luxury watch for cash on the spot.